Deck Archetypes: Midrange Barrage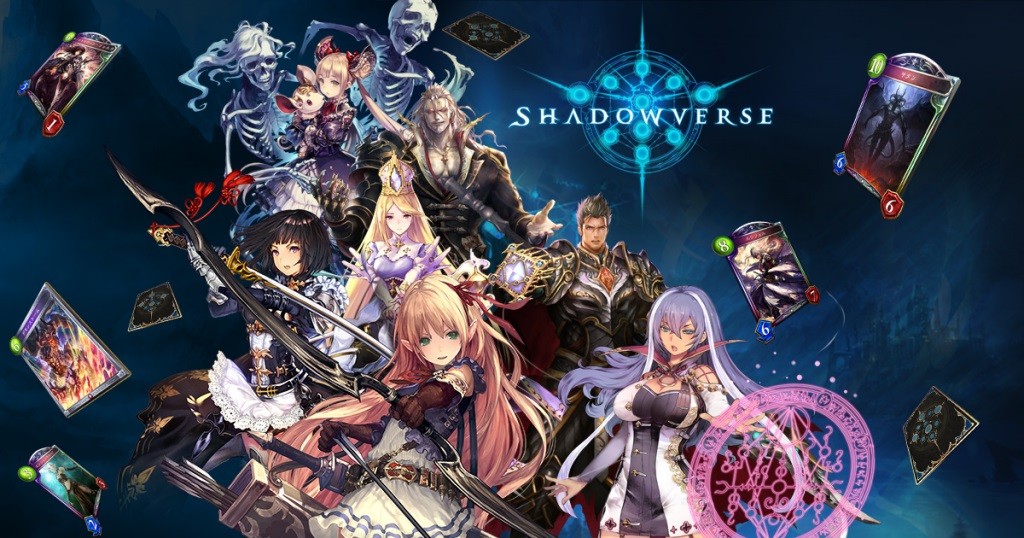 One thing you need to win is a strong deck.
However, just having a powerful deck doesn't guarantee you a win every time. Why is this deck so strong? Why are this many copies of this card in the deck? You have to know the basics of deck building in order to answer these questions.
I introduced aggro decks in Deck Archetypes: Storming with Aggro and talked about control decks in Deck Archetypes: Own the Situation with Control. This time, I'll go over something in-between—midrange decks.
Midrange Deck Characteristics
There are powerful cards in Shadowverse for every cost level. You'll want to include some of these cards in your deck depending on your strategy. In theory, you can overwhelm your opponent if you play the best card possible on every turn and your opponent doesn't. Midrange decks are made up of the best cards to play on every turn. They can make full use of a rich deck of cards and rule with their might.
Cards of each cost are evenly included so not a single play point goes to waste. Piloting the deck is simple—just play the best card you have in your hand.
One classic example of a midrange deck is also one of the most well-known decks: Midrange Swordcraft. This deck can lead to victories as long as you dole out your best play on each turn and overwhelm your opponent. When going first, you can play Fencer on turn 3. When going second, you can play Floral Fencer on turn 4. Regardless of going first or second, you can play Sea Queen Otohime on turn 6 and follow it up with Sage Commander. This is a powerful lineup that you have to be prepared for when facing off against any Swordcraft deck.
One of Dragoncraft's main strategies is to boost play points, but a lot of Dragoncraft decks are built similarly to midrange decks. The first few turns are used to boost your play points. After that you can make strong plays on each turn to overwhelm your opponent.

Some of the best cards Swordcraft has to offer. Each card can be a game changer.
The reason this strategy works is because the game gradually increases the amount of play points per turn for both players. A deck full of low-cost cards can efficiently play out the first few turns. However, you will run out of cards fast and will not be able to utilize all your play points from the midgame onwards. Conversely, a deck full of reactive cards (such as removal spells) or high-cost cards makes it difficult to use play points effectively in the early game.
Both players have the same amount of play points to use per turn. The one who can continue to utilize more play points as the game goes on will have the clear advantage. To sum up, a midrange build is necessary in order to efficiently play cards from beginning to end without using up your entire hand.
Now that we've covered what a midrange deck is, let's try making one.
Making a Midrange Deck
First, let's take a look at the cost distribution of the sample decks introduced back in Deck Archetypes: Overview.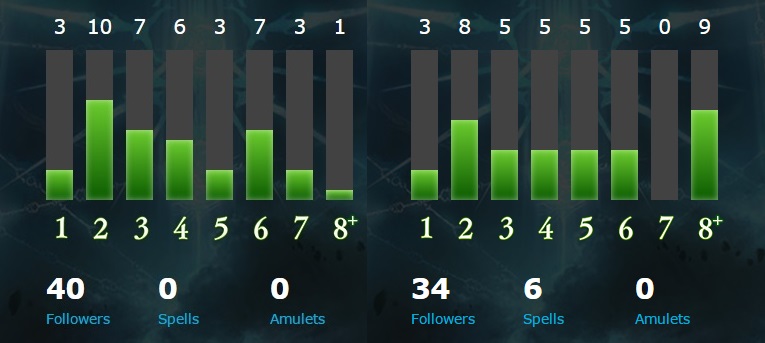 Cost Distribution: (L) Midrange Swordcraft / (R) Midrange "Prince of Darkness" (PoD) Dragoncraft
The cost distribution of the two decks differs. However, as previously stated, cards of nearly every cost are included in both decks. Also, note the prevalence of 2-cost cards for each deck. I discussed the importance of this back in Article #9: Aggro Decks, but the same reasoning applies to midrange decks as well. Additionally, low-cost cards play another significant role in midrange decks.
If you look at the cost distribution of the Swordcraft deck above, you'll notice that there aren't too many 5-cost cards. The reason is that there aren't too many 5-cost card options in the class. Midrange decks are strong because they utilize the best card on every turn. The relative lack of 5-cost cards makes it more likely that this flow will be broken on turn 5. To maintain a strong play, you could play two cards on turn five: a 2-cost and 3-cost card or a 4-cost and 1-cost card. If you generally use one card per turn, you should have cards left over in your hand. If you lack cards of a certain cost, think about different combinations you can use when deck building. You should include a few more cards that are easy to combine with each other.
Midrange decks often include cards that provide more value than their cost. For example, in Midrange Swordcraft, Sea Queen Otohime costs 6, but provides the value of 8 play points and 5 card slots because it essentially summons Goliath and Vanguard x 4. Playing this one card has an overwhelming impact on the board state. If you look at Tsubaki, this 6-cost card has an extremely high value of 7 play points and 2 card slots because it effectively performs like Giant Slayer and Desert Rider with Ambush. There aren't too many cards like this that can single-handedly provide the value of multiple cards. You should definitely include them in your deck.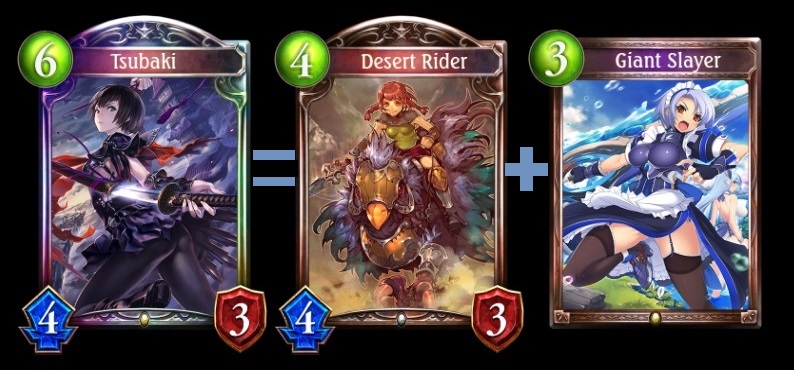 Tsubaki provides excellent value as shown
Slapping together a deck with what you consider to be strong cards is a viable strategy. However, as with any deck, you have to mull over your deck strategy. On which turn do you turn up the heat? By which turn do you hope to win? Your game plan will affect the priority of each card and make your deck even stronger.
A clear example is that a deck that aims to win by turn 9 does not need the 10-cost Prince of Darkness. However, if you continually run into control decks that drag the game on past turn 10, you'll want to consider including Prince of Darkness to improve your chances of winning.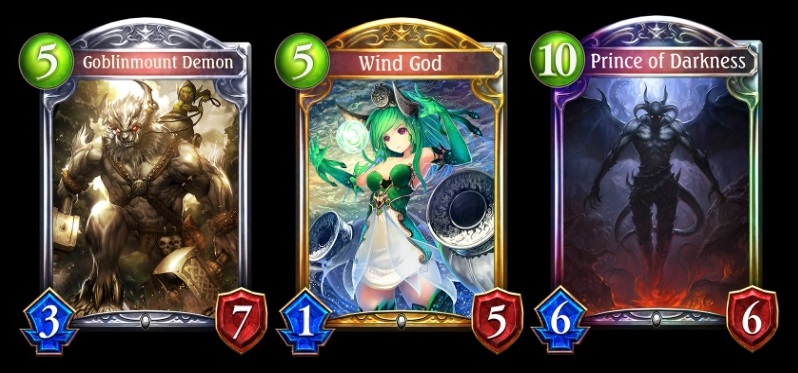 Card choices change depending if you're playing offense or defense on turn 5, or whether you think the game will last past turn 10
The new expansion Darkness Evolved was released at the end of September, expanding the variety of Midrange decks. Now there are many powerful cards. As decks evolve and become more interesting, I encourage you to create your own original midrange deck.
Summary
Midrange decks rule with their might! Power your way to victory!
In the next article we'll be covering how to incorporate cards from Darkness Evolved into your decks. Stay tuned!
保存
保存
保存
保存
保存
保存
保存
保存
保存
保存
保存
保存
保存
保存
保存
保存
保存
保存
保存
保存