Kuroebi's Tips 2: Control Evolved!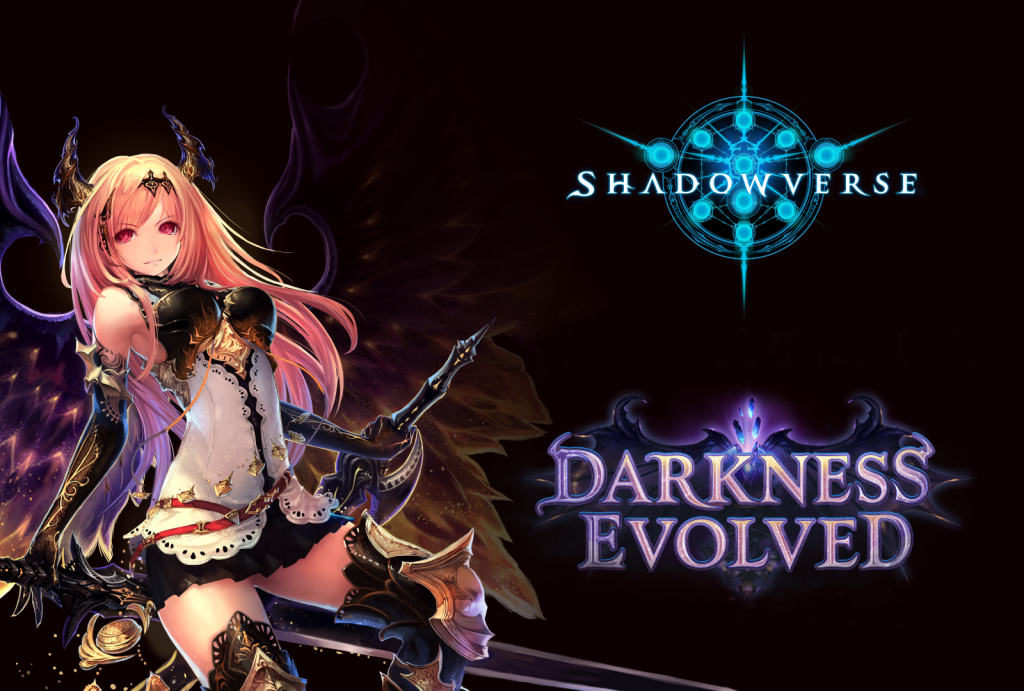 I'm genuinely curious to know what people think about the impact Darkness Evolved has had on the game after its release. The expansion has brought a variety of new additions such as cards, decks, and tactics. Seeing everyone test out all these new things is very exciting. I myself am taking a cold, hard look at my card collection to see if I can discover something new.
In this article, I'd like to take a look at some of the more noteworthy control cards and a sample deck. How will control decks fare in the new metagame?
Noteworthy Control Cards
Control decks need cards that can ensure victories by slowing down an aggressive opponent in the early game and resetting the board state. Another way control decks can secure a win is by shutting down the opponent's power cards from the midgame onwards. Cards that have a major impact regardless of the situation are must-haves for this archetype.
Control decks typically lose if they cannot stop early aggression and fall behind  (See Deck Archetypes: Own the Situation with Control). The new Darkness Evolved cards can patch up these weak areas and may allow you to stay in complete control of the entire game. Below is an overview of several class cards and a neutral card, for a total of seven new cards.
Neutral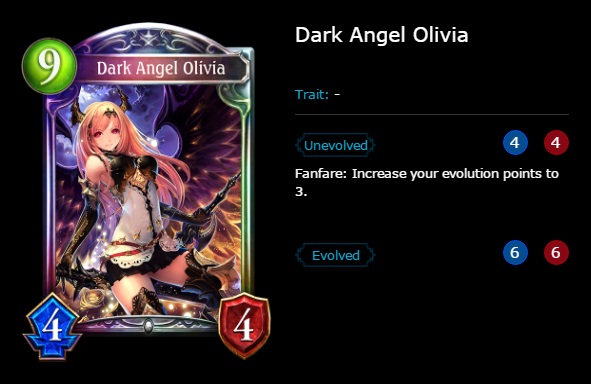 Dark Angel Olivia has a powerful Fanfare ability. She gives you 3 evolution points, which are required to evolve followers. Taking into account its high cost of 9 play points, I believe this card will most likely be seen in control decks.
Control decks commonly end up needing to evolve followers when they cannot answer a threat on the board. This makes it difficult to save evolution points. However, having this card should let you evolve your followers more proactively.
Righteous Devil, Priest of the Cudgel, and Humpty Dumpty have a huge impact on the board when they are evolved. Dark Angel Olivia makes these cards useful even in the late game, meaning it effectively improves the quality of your draws.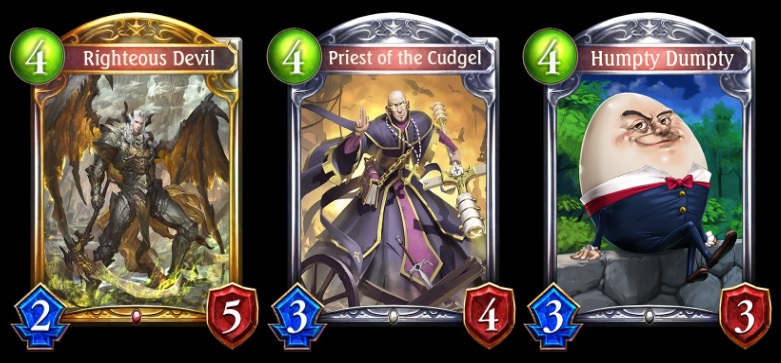 Forestcraft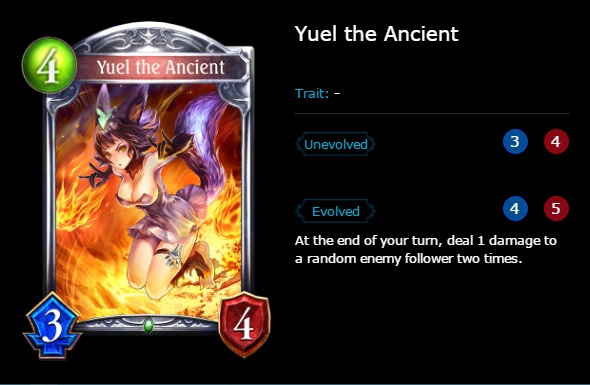 Yuel the Ancient will amaze you with how she takes control of the board after being evolved. Use it in combination with any Fairy you have on the board to deal with enemy followers. The enemy also has to deal with her or else she will continue causing mischief. She provides an immediate chance to pull ahead.
Swordcraft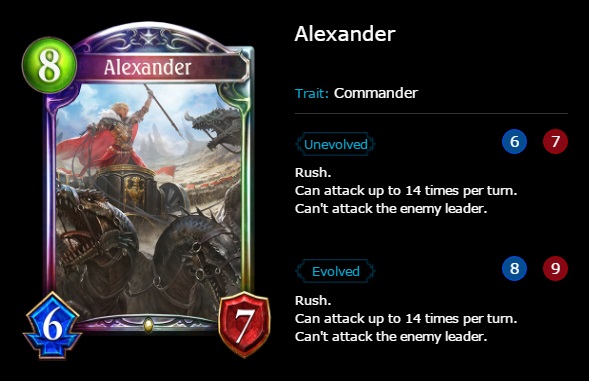 Swordcraft has always struggled to deal with enemy followers immediately. However, the Darkness Evolved cards come with a new mechanic: Rush.
Swordcraft generally relies on filling up the board with followers to gain the advantage. However, the introduction of cards like Alexander and Leonidas, who leaves a Rush-bestowing Amulet on death, gives Swordcraft enough tools to react to contingencies. Control Swordcraft decks can now sit back and calmly overwhelm opponents in the late game.
Runecraft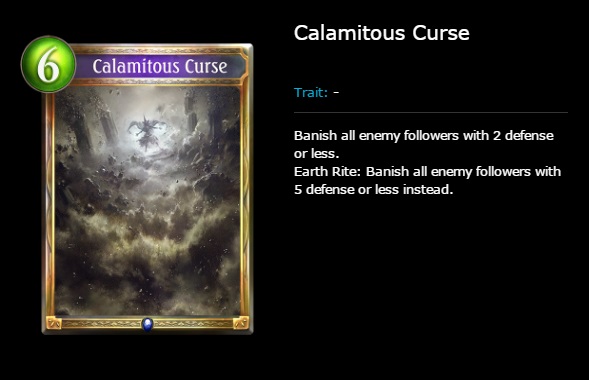 Runecraft gains a powerful new AOE (area of effect) spell. With the help of Earth Rite, it's even capable of taking down followers that Alchemical Lore can't. This increases the value of Earth Sigils tremendously. Use them alongside a wall of Guardian Golems to clean up followers even without the Earth Rite effect. This card opens up many new possibilities.
Dragoncraft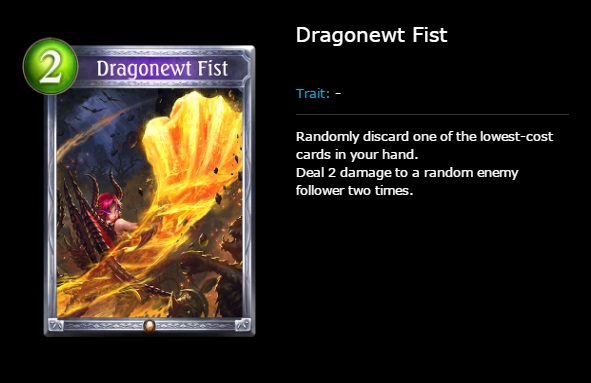 This is a 2-cost removal spell that comes at the cost of discarding a card from your hand, but makes up for it with a spectacular effect. Before the introduction of Darkness Evolved cards, Dragoncraft relied on an evolved Dragon Warrior or low-cost followers with Ward to take care of early attackers. However, the damage to your leader's defense was often too much. With more options like Dragonewt Fist to help survive the early game, Dragoncraft now smoothly transitions to the late game where it can really shine.
Bloodcraft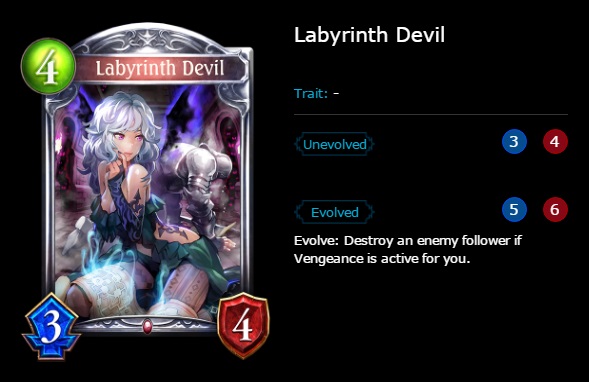 Labyrinth Devil triggers a strong effect when it's evolved. If Vengeance is active, the effect is even more powerful than Wardrobe Raider, a go-to card for Bloodcraft up until now. You'll want to save your evolution points for the power card Righteous Devil. If you have a hard time drawing Righteous Devil, however, the stats on Labyrinth Devil are quite high after evolution, making it a great plan B.
Havencraft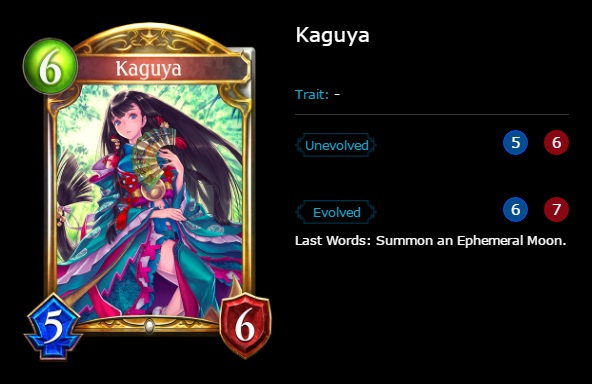 Kaguya herself has decent stats, but the Ephemeral Moon produced from its Last Words make it an extremely coveted card for control decks. Ephemeral Moon can neutralize an enemy follower with high attack. 6-cost Havencraft cards include the ultimate board-clearing Themis's Decree, but this follows closely in terms of impact.
Sample Deck
Runic Rites Evolved

Runic Rites is a deck to keep an eye out for due to the boost it received from Darkness Evolved cards. This deck used to have difficulty dealing with the board. Earth Sigils, however, can now be used for removal and even summoning followers with Ward. This makes it easier to stall the game until your setup is complete. There are more practical cards with Earth Rite, making it surprisingly resilient from the midgame and on.
Remi and Rami, Witchy Duo and Sun Oracle Pascale have great destructive power. You can quickly regain the board after using Calamitous Curse to clear it. When the time is right, play an Ancient Alchemist or Juno's Secret Laboratory to pull ahead in the battle of resources and deliver the coup de grace.
Remember that Conjure Golem is a spell, so combining it with cards that have Spellboost can be very powerful. There are no Spellboost cards in this sample deck, so I recommend experimenting with different recipes!
Summary
Darkness Evolved cards reinforce control decks. Use them to stay in control of the game!
In the next article, I'll cover noteworthy midrange cards and include a sample deck. Until then, keep enjoying Shadowverse!
保存
保存
保存
保存
保存
保存
保存
保存
保存
保存
保存
保存
保存
保存
保存
保存
保存
保存
保存
保存
保存
保存
保存
保存