Kuroebi's Wonderland Dreams Take Two Card Roundup (Part 1)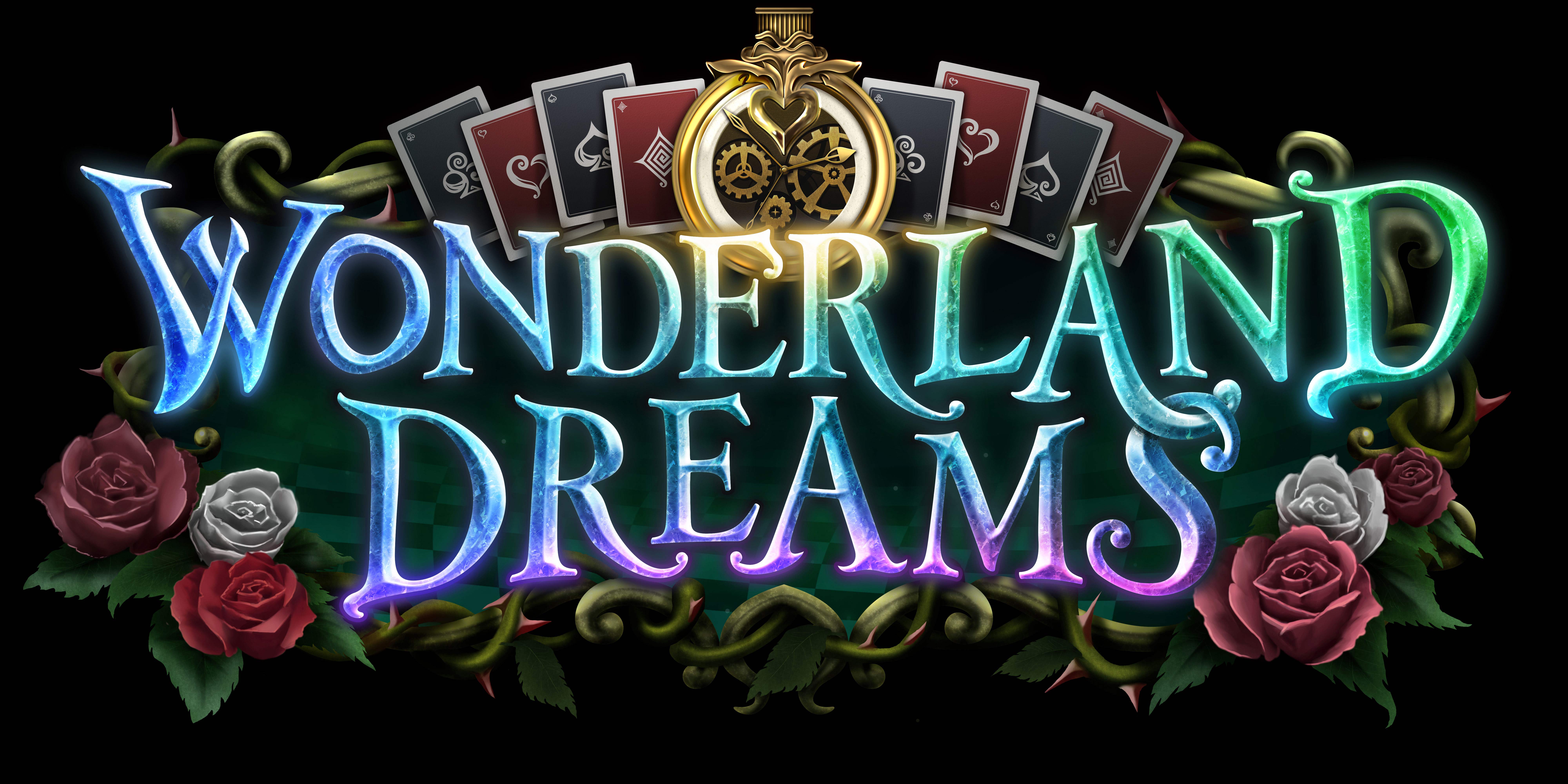 Along with the introduction of the fifth Shadowverse card set, Wonderland Dreams, the Take Two arena has also been updated, with an emphasis on the power of Neutral cards.
There may be some of you out there who haven't tried your hand at the arena yet with a pile of Take Two tickets collecting dust, but with the release of the new expansion this may be the perfect opportunity for you to jump in and use them! For first timers, I recommend checking out my introduction to Take Two to learn the differences between standard matches and Take Two and how to play them differently.
Kuroebi's Tips: Starting Take Two – Part 1
I hope that you'll try taking on the arena using the strategies introduced in this article, now with new cards from Wonderland Dreams!
Neutral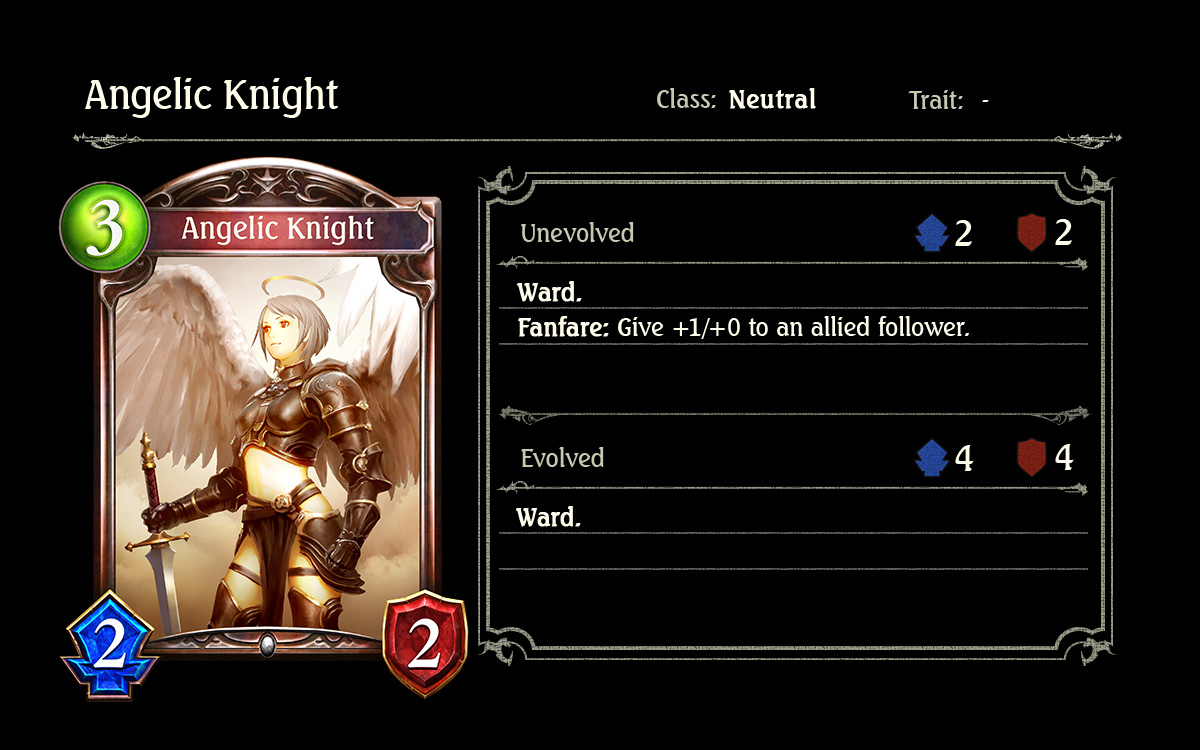 Simultaneously boosting an allied follower and protecting your followers with ward, Angelic Knight truly is a guardian angel.
Ward is an essential ability for protecting your leader from taking damage, but also a crucial tool for offense, potentially increasing the amount of times your other followers can attack. In a game where 1 point of damage makes the difference between victory and defeat, this is a card you definitely don't want to overlook.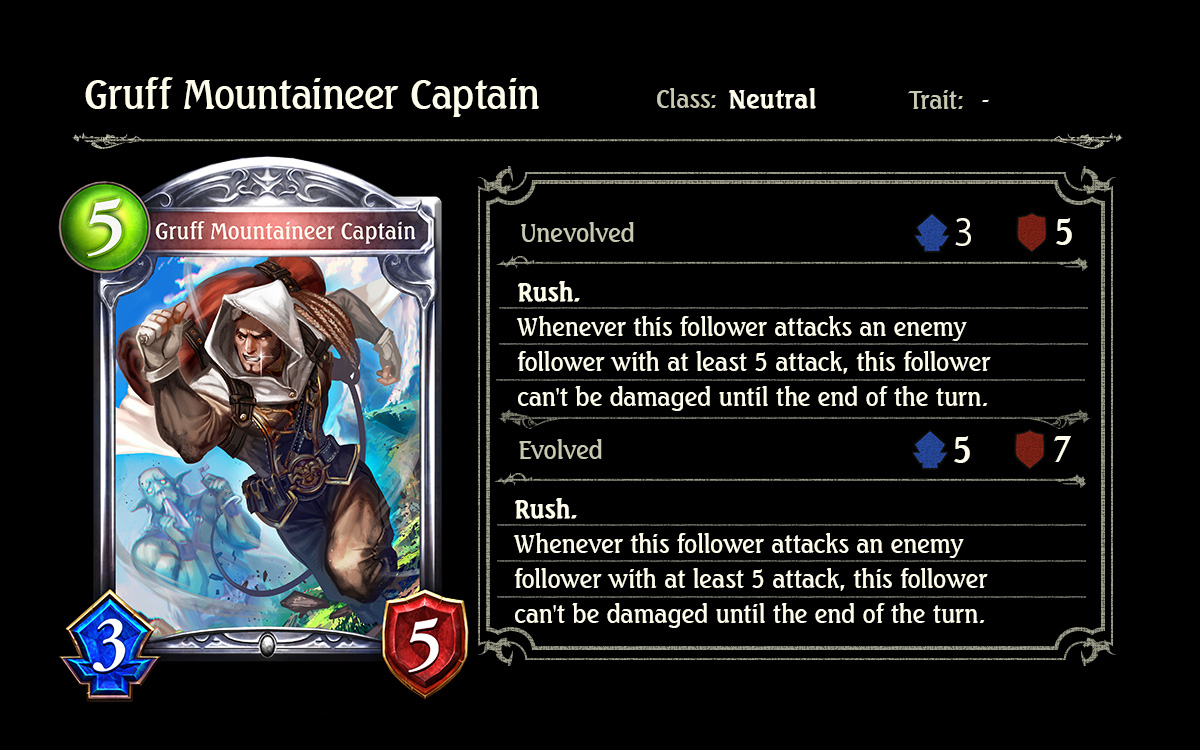 In Take Two, followers that are able to immediately attack on the turn they are played without evolving are strong picks for any deck.
With its Rush ability, Gruff Mountaineer Captain is a great card for taking care of any major threats quickly. In Take Two, evolution timing is crucial, and the ability to save an Evolve for another card may give you the upper hand in battle over your opponent later in a game.
This guy is sure to be a popular choice in Take Two, so keep him in mind when building your deck—not only as a potential candidate but as a card you may need to be prepared to counter.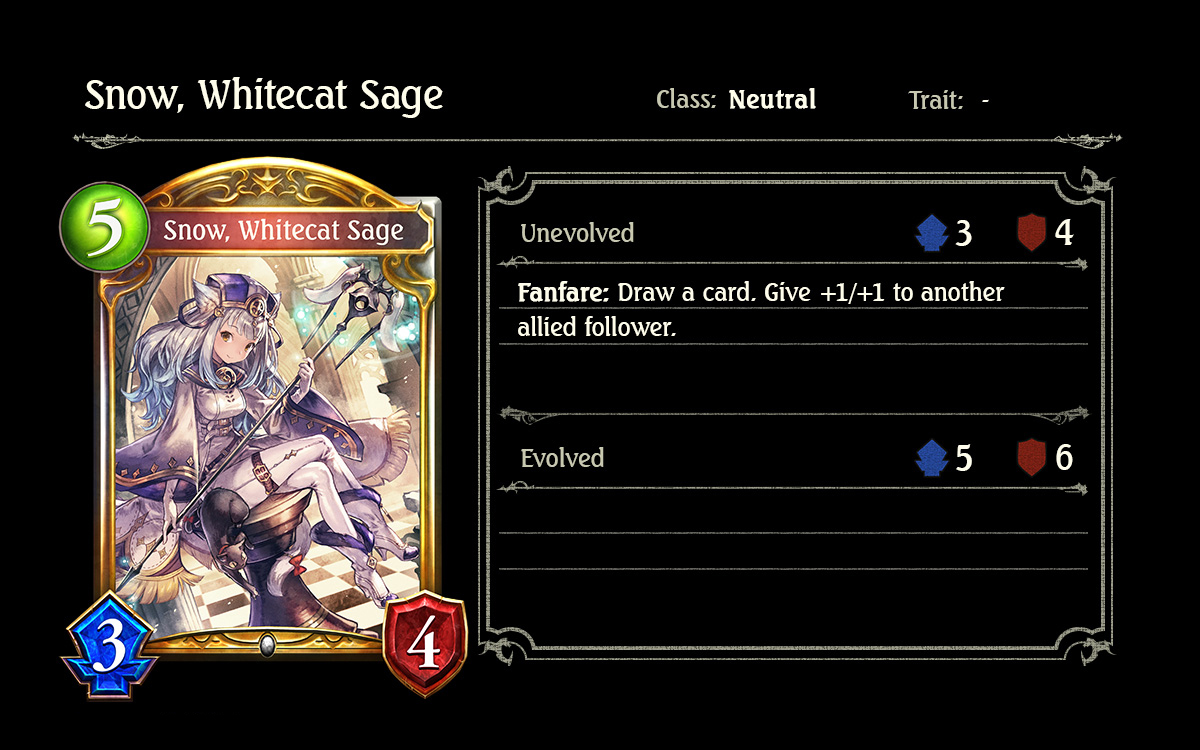 When playing with limited resources in Take Two, any card that can add options to your hand during the late game can be a game changer: the better card you pull, the more value it has.
Snow, Whitecat Sage is a versatile card that simultaneously adds to your hand while also strengthening an allied follower, making it a solid addition to any board during the middle to late stages of a match.
Forestcraft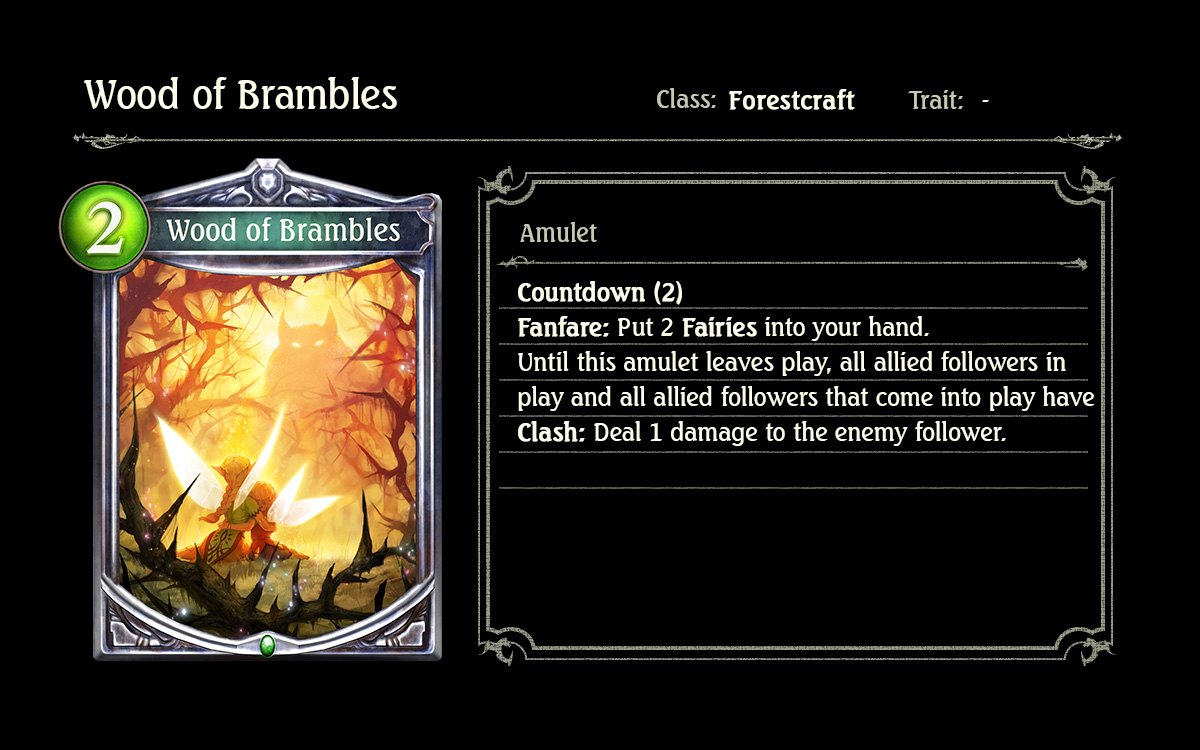 Followers with only 1 defense are almost guaranteed to be quickly wiped out by your opponent, so use this to your advantage with Wood of Brambles. Even your unassuming Fairies, with their strength in numbers, can deal a surprisingly overwhelming amount of damage. During the two active turns for this amulet, play the Fairies supplied and any other followers you can to hinder your opponent even when they're on the offensive. Whether for early game aggression or supplemental damage during the late game, there are plenty of chances to use this card to your advantage.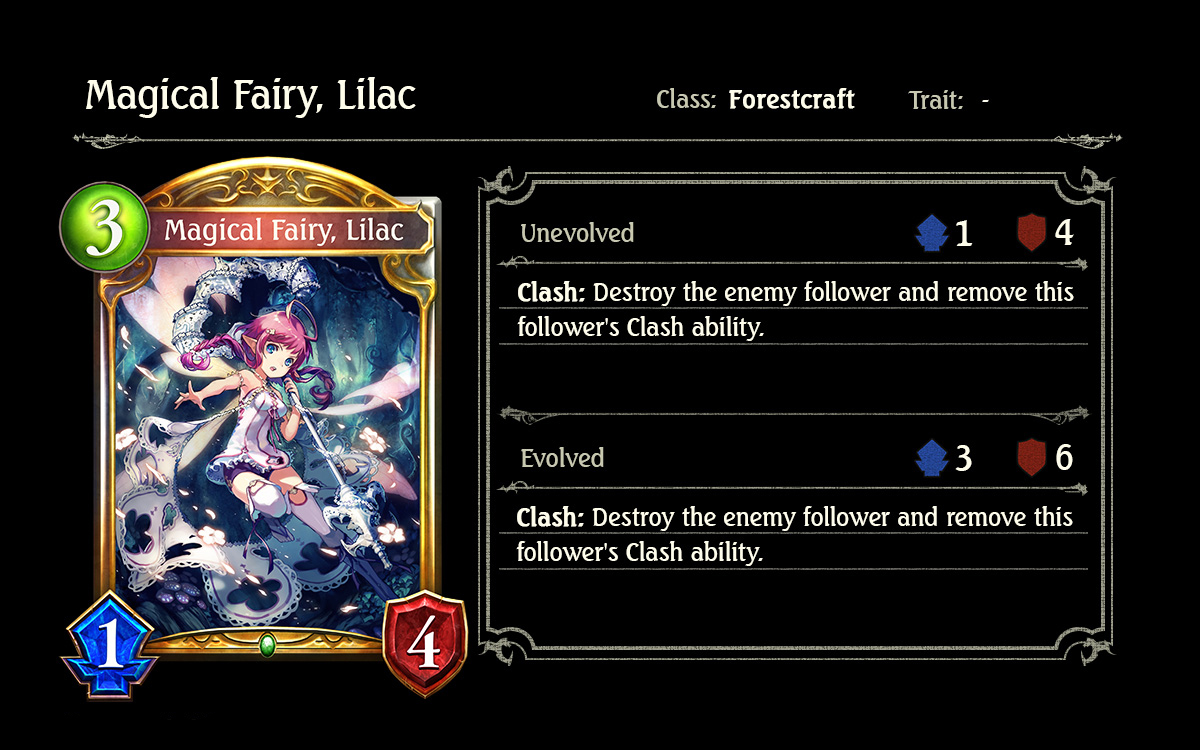 This is a tremendously valuable card you can count on to take out at least one enemy follower during any point of a match.
This card can be played effectively in multiple ways: play Magical Fairy Lilac to counter any of your opponent's followers, or play it with no enemy followers on the board to stifle your opponent's options on their next turn. Able to take out an enemy follower in one fell swoop, this card is the perfect answer for any major threat that your opponent may play.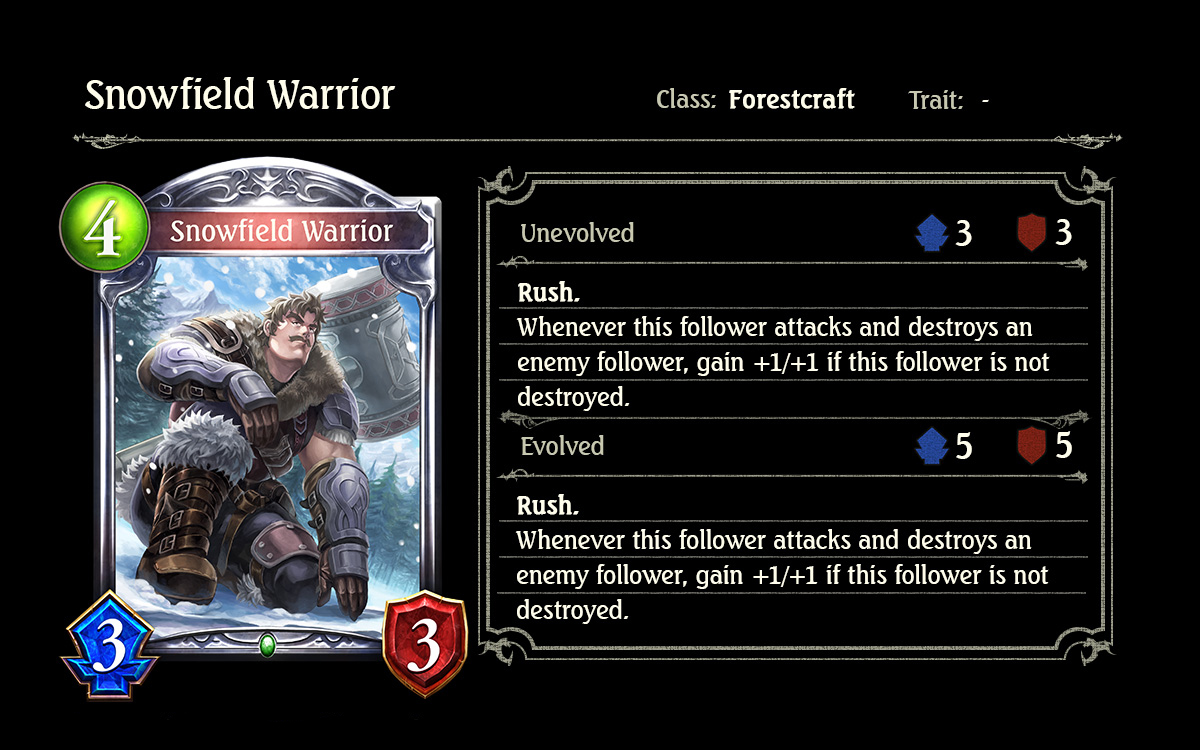 Choosing a follower to play on turn four is always a tricky gambit since your opponent will be ready to counter with Evolve, so I always like to have a card with Rush ready to play on this turn whenever possible
In addition to being able to deal immediate damage on turn four with Rush, Snowfield Warrior can become even stronger upon attacking, and hold its own even against evolved enemy followers. The longer this follower stays on the board, the stronger it can become. If you find yourself on the receiving end of this card, it's surely one you'll want to take care of quickly.
Swordcraft
Any card with a Bane effect can strike fear into the heart of your opponents. On top of that, add the ability to be immune from taking damage when attacking and you've got a truly fearsome card on your hands.
Followers with a Bane effect can be particularly difficult to deal with, especially those with high defense, making White Ridge Swordsman an extremely capable card for clearing out enemy followers. When evolved, this officer can attack freely without taking any damage in return, forcing your opponent's hand to play an even stronger card to get rid of him.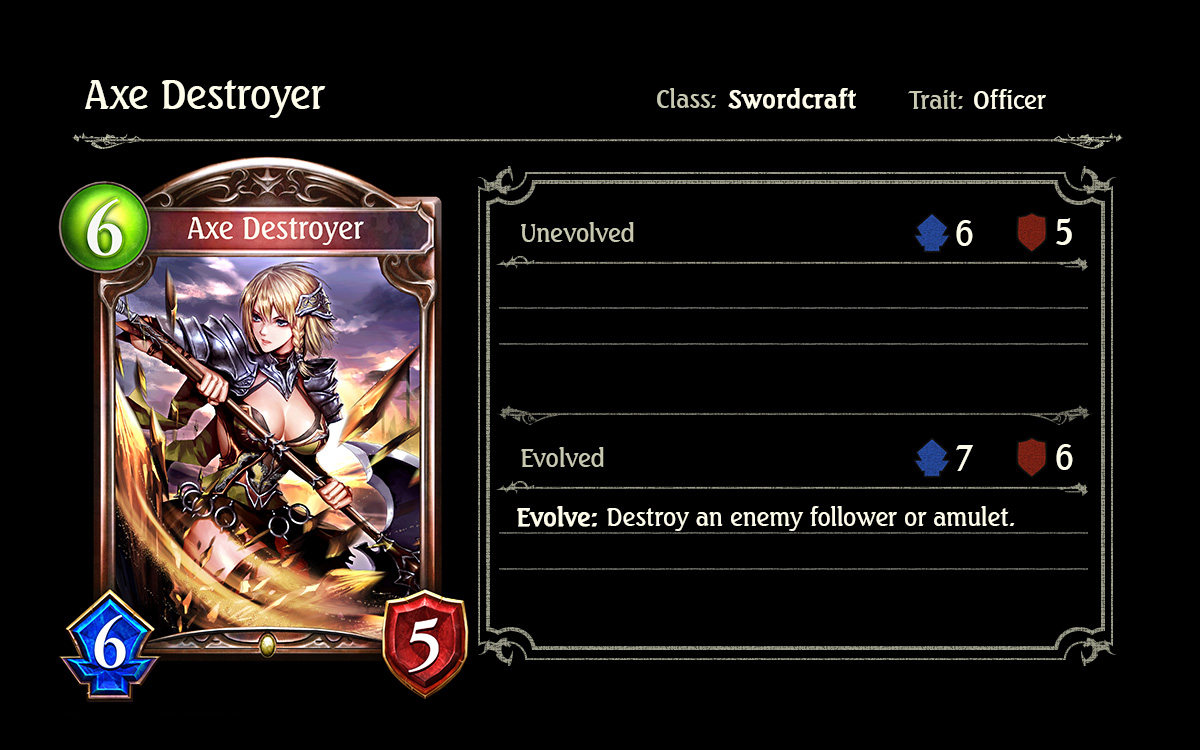 With remarkable attack and an incredibly powerful evolve effect, this Swordcraft follower may very well be the one to deliver the coup de grâce to any unsuspecting opponent.
Axe Destroyer is a card I want to evolve if possible, so having a Luminous Mage to preserve an evolution point or Dark Angel Olivia to restore 3 evolution points are great cards to have together in a deck with this follower.
Sometimes it may not be easy to preserve evolution points, but for this card's ability to easily take down your opponent's wards and finishers, it's definitely worth it.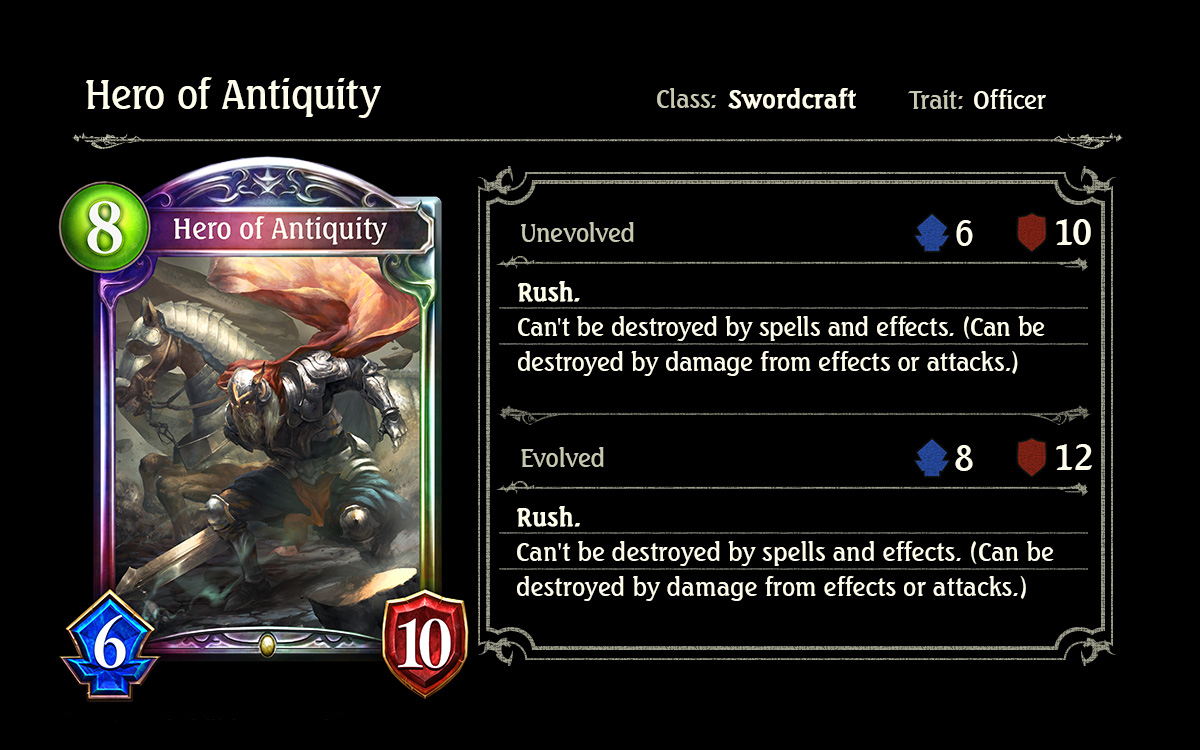 Equipped with a whopping 10 defense for 8 play points, Hero of Antiquity is truly a force to be reckoned with. Followers with Rush are difficult to quickly counter, and having one this powerful in your arsenal during the late game can be the deciding factor to deal the finishing blow to your opponent.
Additionally, players who have a spell card up their sleeves to quickly deal with powerful or troublesome cards may find themselves at a loss, since this hero can't be destroyed by spells and effects.
Runecraft

Earth Sigils are essentially amulets which can activate Earth Rite effects when they are played. However, in some situations a poorly timed Earth Sigil without any immediate impact on the board can create an opening for your opponent to push their advantage and strike.
Maximize efficiency and make an impact on the board immediately with Gingerbread House, an Earth Sigil that combines both damage and recovery for only 3 play points. Earth Rites can be devastating when played at the right time, so these supportive Earth Sigils are definitely something to keep an eye out for when building a Take Two deck.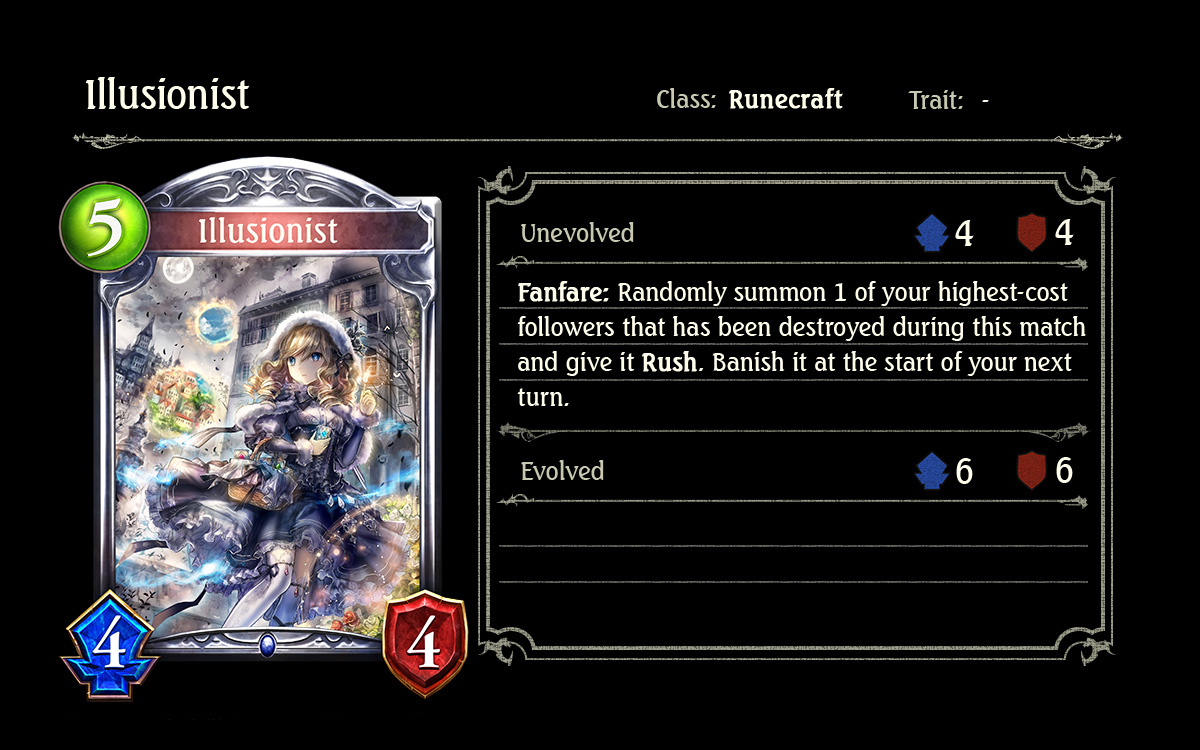 Reviving one of your highest-cost followers that was destroyed during a match can be huge, even if that follower is revived for only for one turn and chosen at random. The ability to bring back one of your potentially strongest cards and give it Rush makes Illusionist an extremely cost-effective card for immediate damage.
Gain even further returns with this card by stocking your deck with powerful followers that also possess deadly Last Word effects. Since the follower summoned can only attack for one turn before being banished, strategically time your attack on a particularly strong enemy follower to destroy your summoned follower and activate its Last Words. The illusion is temporary, but the impact is real!
When picking Illusionist in Take Two, always try to keep your strongest followers in mind to fully utilize this card's potential with your deck.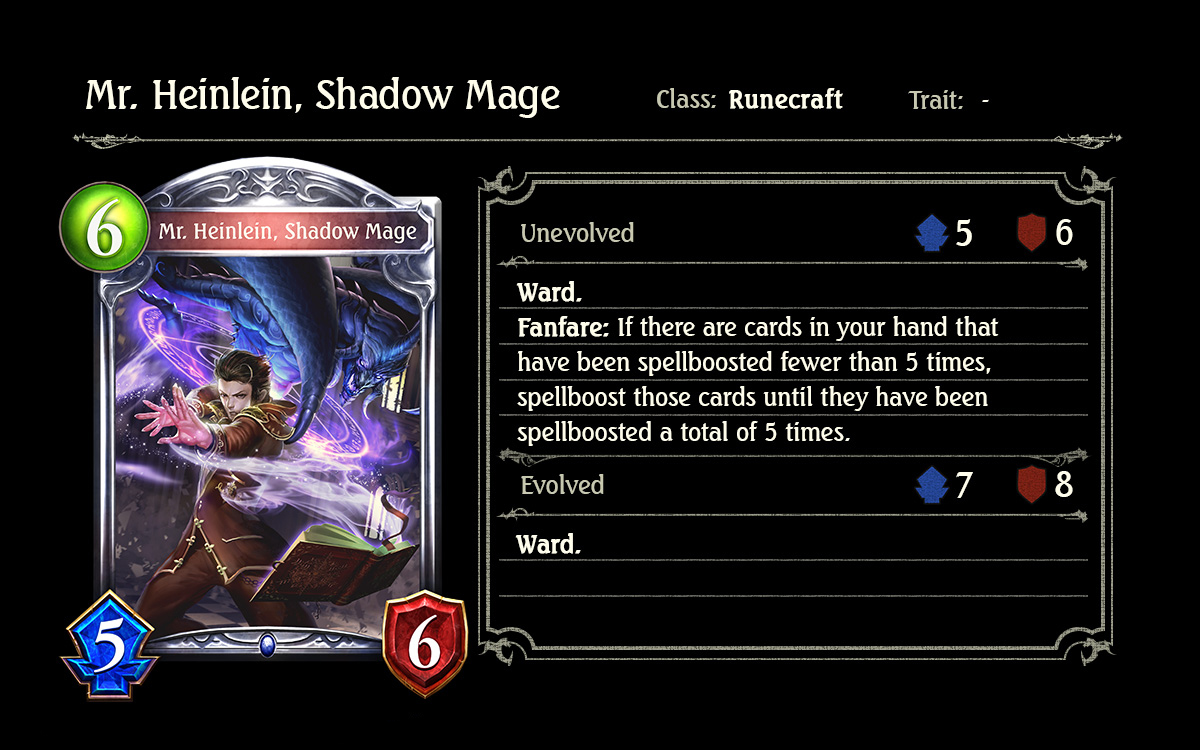 Cards with spellboost effects can become incredibly strong when spells are played, but the dilemma of not knowing whether or not you'll get enough spells in your deck made Runecraft an inconsistent class for Take Two.
Fear no more, Mr. Heinlein, Shadow Mage is here to save the day! Able to spellboost the cards in your hand up to five times, this enchanting educator will bring out the destructive power of your spellboost cards. No longer will you need to be overly concerned about the amount of spells available during the card selection stage. With this strong new addition to the Runecraft arsenal, I think we can expect an increase of Runecraft players in the arena.
Next Time
Next time, I'll be continuing my introduction of new cards and strategies for Take Two from the remaining classes (Dragoncraft, Shadowcraft, Bloodcraft, and Havencraft). See you soon!
保存
保存
保存
保存
保存
保存
保存
保存
保存
保存
保存
保存
保存
保存
保存
保存
保存
保存
保存
保存